For a Singapore university's mandatory essay, I wrote about Mindy Kaling. That essay eventually led me to be accepted to do the entrance exam, but I was not accepted for the real 4-years university experience. Anyway, I've been a fan of Kaling since forever and I'm intrigued by her choices in life. Born as Vera Mindy Chokalingham from both Indian parents — her mother was a gynecologist, while her father was an architect — Mindy was expected to grow up doing the typical Asian professions (doctor/teacher/engineer/etc). Nonetheless, she chose to be a comedic writer instead. Now, her Wikipedia page proudly presents her as actress, comedian, and writer. The route for her to achieve all of those titles was obviously rough, not red-carpet ready.
Kaling was most famous for her character from The Office sitcom, Kelly Kapoor. Kapoor is a relatable 20-something petty girl who has zero interest in her daily job, obsesses on celebrity gossips and is hopelessly romantic over boys. I wish she had more scenes on the sitcom, though!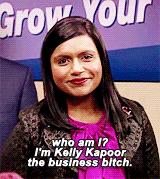 Not only did she act for the sitcom, but Kaling also script-wrote for The Office. Kaling was only 24 years old when she began writing for The Office, and she has won various awards ever since. I have watched every The Office's episode that Kaling had script-written. Each one of them is truly pure comedy gold. Before being hired to act and write for The Office, Kaling did some weird jobs, which one of them was as a production assistant for a psychic show. Later, she did describe the experience as "the worst job ever: depressing". Nonetheless, Mindy never gave up — she kept doing what she loved the most, making people laughed. She did stand-up here and there and appeared in movies with small roles. Kaling used to star in several movies as irrelevant characters, alongside with Hollywood big names. It certainly was easy to overlook Kaling's potentials when there were Natalie Portman, Steve Carell, or Ashton Kutcher starring in those movies. Despite getting small parts in movies, Kaling never backed down. With all of her passion she thrived, until she reached the ultimate stardom.
Kaling now stars and writes her very own sitcom, The Mindy Project. The Mindy Project circles around the life of a hopeless romantic gynecologist, Mindy Lahiri, who is played by Kaling herself. Having her own TV show, Kaling represents the minority (curvy woman of color who just loves herself) in nowadays white washed media — it's such a breeze of fresh air. A lot of people criticize her for prioritizing and objectifying white men, as her character on the show has probably dated 2349820 Caucasian males. In my opinion, let her be. Let Mindy Lahiri scam every white men she's ever met, bless her. If you think Kaling is already satisfied after having her own TV show and receiving awards for her scripts, you are horribly wrong. She just does not stop there. In 2011, she wrote a book called Is Anyone Hanging Out without Me?, and last year, she published another book with the title Why Not Me. I read Why Not Me back in April; it is a real easy-read, yet extremely hilarious. Kaling's sentences are brief, but they can make you laugh so hard. The Office's producer, Greg Daniels, said something undeniably true about Kaling: "She's very original … If anything feels phony or lazy or passé, she'll pounce on it". Aside from acting and writing, Kaling also voiced for famous cartoon films, Wreck-It-Ralph and Inside Out. In 2016, it is confirmed that Kaling will star in Ocean's Eleven with Helena Bonham Carter, Sandra Bullock, and other notorious white celebrities. Impressive, isn't it?
Although she has ultimately reached success, Kaling isn't afraid to show her insecurity regarding body image. She is full of curves, different from the usual 'stick-thin-but-huge-boobs' bodies of A-list celebrities. As Kaling once said in one of her interviews, "I always get asked, 'Where do you get your confidence?' I think people are well meaning, but it's pretty insulting. Because what it means to me is, 'You, Mindy Kaling, have all the trappings of a very marginalized person. You're not skinny, you're not white, you're a woman. Why on earth would you feel like you're worth anything?". Mindy Kaling has inspired a plethora of women and little girls out there. By inventing the character named Mindy Lahiri on her show, Kaling wishes to tell girls to be confident, just like what Lahiri thinks all the time: "I am smart, beautiful, and hot. I can scam any white men available. Okay, who's next?"