If you ever watched Parks in Recreation back in 2009-2015, you might be familiar with the character Tom Haverford, who was played by Aziz Ansari. Fast-forward to the end of 2015, Aziz created and starred in an award-winning comedy-drama television series named Master of None (watch free: here). The cinematography of Master of None is beyond any other TV shows that I could ever think of — it's just so beautiful, similar to that of Donald Glover's Atlanta. Recreating mundane every-day reality into stunning cinematic scenes reinforces the assumption that Aziz, alongside his co-creator Alan Young, is a comedic genius with insightful perspectives.
Basically, Master of None follows up the experiences of Dev Shah (Aziz Ansari), a 30-year-old aspiring actor who has not fully figured out life yet. Just like any other millennials out here, Dev is engulfed by the confusion of chasing his dreams or settling for comfort zones, such as marriage.  The first season circles around Dev, his shitty acting career, friends, parents, and girlfriend. To cut things short, I'm just going to elaborate the episodes from season 1:
PLAN B
The very first time Dev meets his future girlfriend, Rachel Silva (Noel Wells), he decides to jump into the hookup culture. It becomes rather embarrassing afterwards though; Dev & Rachel have to stop because of broken condom. Both of them get all panicky and rush out to buy some Plan B pills. The night ends awkwardly as Rachel confesses she's still dating someone else.
The next day, Dev offers to babysit for his friend's children. The children, a little boy and a girl, go ballistic and just plain rude. Maybe that's because they are white kids. In the end of the episode, he realizes that probably parenting is just not for him at the moment. After watching this episode, I felt revolted towards little kids, but then I had to remind myself that my kids would prolly turn out to be just like me. And it's gonna be ok.
PARENTS
This particular episode is one of my faves due to the impressive cinematography and depiction of the olden times; brilliant, I might say. Growing up in the United States, Dev takes his father for granted — he refuses to help his old man with the iPad, or computer, or phone in general. Dev completely forgets how his father bought him the very first computer ever, back in the 1980s. Seeing the poor old man trying to fix his iPad himself almost made me cry. Parents is intended to show the detachment between immigrant parents and their children. Fully immersed with Western cultures, their children seem to be whitewashed and sometimes forget about the hardships of being immigrants in the United States. Amidst of the broken English and timidity, immigrant parents make the most sacrifices.
HOT TICKET
Receiving two tickets for a show, Dev is eager to ask out the hottest girl (Alice) who works in a pub. Alice leaves Dev panicky and confused, as she doesn't reply his texts for weeks. His friends suggest sending some emoticons, pictures, or a question mark — anything to get a response from Alice. Anything. Eventually, Alice accepts Dev's invitation and they all go to the show together. Alice turns out to be a kleptomaniac and a huge-ass freak, though, a freak in the worst connotation ever. At the end of the episode, Dev coincidentally meets Rachel again, the girl from 1st episode. Hot Ticket embodies the pettiness of modern dating, with texts and all. We tend to overthink a text, when it's really this simple: when someone is into you, he/she will make an effort. You will be the priority. Mixed signals are just a shitload of bull. That's that! Surprise, surprise.
INDIANS ON TV
One of the best episodes in season 1! Indians on TV tells the frustration of Dev as an aspiring actor in New York. Acting parts for Indians are limited as taxi drivers, minor acquaintances, or silly irrelevant villains. During castings, all Indians are forced to speak in their stereotypical accent which degrade their authenticity and credibility. When there is a massive film project, only one Indian man is eligible to be credited as an actor, which leads to the rivalry between Dev and his friend, Ravi. Dev then realizes that the major problem here lies not between himself and Ravi, but on the movie industry itself. Watching movies from several generations ago, Dev is able to see Caucasian men doing brown-face and heavy Indian accent in several famous movies, such as Short Circuit 2. Even in recent movies such as The Social Network, there is still a white man appropriating brown-face.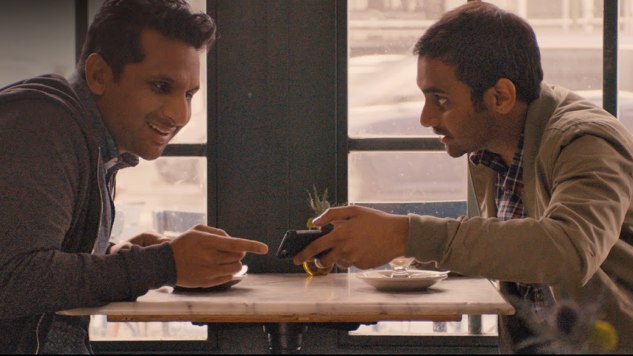 THE OTHER MAN
The whole theme about the episode is apparent — whether an affair can help spice up a relationship or not. Dev's friend Denise (Lena Waithe) invites him for a party, where he meets with an older lady named Nina (Claire Danes). Dev and Nina hook up that night. Turns out Nina is already married, but she insists on continuing the affair with Dev. One day, Dev goes to an ice cream place to find out that Nina's husband is also there, frantically doing a business-call. Her husband finally finds out about the affair, gets hella mad, and threatens lil Dev (Dev is so scared because this white guy is 3 times his size). Nonetheless, Nina and her husband end up thanking Dev, since the affair has helped solve their marital problems. What a plot twist. Personally, I think cheating is such a last straw, but who the fuck am I to know? I've never been in a relationship before lmao
NASHVILLE
Remember the girl with the Plan B pills? Rachel makes a comeback in this episode, claiming that she has broken up with her boyfriend. Dev decides to make his first date with Rachel so memorable by bringing her to Nashville. Conflict arises when they both miss the flight home, because of Dev's poor time-management. They still like each other anyway, and proceed to plunge into serious relationship. Nashville is cute and all, but the episode is just average.
LADIES AND GENTLEMEN
Ladies and Gentlemen, as the title explicitly says, focuses on the reality of sexism experienced by women. A man's despair involves something trivial such as accidentally stepping on a feces. On the other hand, a woman's distress is caused by horrifying stalkers, perverts, et cetera. Because of this saddening fact, Dev proclaims that he's a feminist to all of his TV commercial casts, whom he has been working with. The director of the commercial thinks that Dev's idea is great, and proceeds to give Dev's main roles to the working actresses. Ironically, Dev ends up being jobless while all the women in the commercial get the main parts. The director is an asshole anyways; he uses women for profits yet still act condescending towards them.
Dev catches a man who masturbates in the subway, making everyone there feels uncomfortable. The man then proceeds to say, "It's just something that I do, but society condemns it as wrong" — what a joke. This man literally claims how he can't masturbate freely on public as an epitome of oppression. All in all, this is just a good episode that bluntly highlights women's everyday struggles, while also spotlighting men's insensitivity towards their own privileges. 
OLD PEOPLE
Dev visits his friend's grandpa, who used to serve in the military back in the olden days. This grandpa dies the following week, which startles Dev as he was just visiting the old man about 8 days ago. Dev comes to the realization that all of us need to be kind to old folks, and decides to spend some time with Rachel's grandmother. Both of them have a blast, sneaking out of the retirement home to eat at a fancy Italian deli. Rachel's grandma is a badass in her younger days, always doing the most. The old woman reevaluates her whole life: how she ends up escaping a retirement home to dine with the ethnic boyfriend of her granddaughter. Regardless of all that, she enjoys her night.
MORNINGS
Reality of being a couple kicks in on Mornings, as Dev and Rachel grow kinda tired of each other after moving in together for months. In Indonesia though, couples moving in together is seen as something extremely taboo by naming it "kumpul kebo" — so many negative undertone on that two words. Days turn to weeks, and weeks turn to months. Dev and Rachel's relationship becomes bleak with routines and silly little conflicts. Nonetheless, Dev is still attempting to spice things up, sex-wise and relationship-wise, in spite of his disgust towards Rachel's messiness. Their relationship isn't perfect, it has its own ups and downs. But who doesn't? Rachel finally meets up with Dev's parents, and the relationship continues. Love the little apartment's vibe that both of them are staying, though. Or maybe it's the impressive cinematography. This particular episode is genuinely enjoyable to watch — exploring all of the twist & turns of a relationship between two loving individuals, the intricacies, the dramas, and the comedy, Mornings makes you want to fall in love.
FINALE
Dev is so excited to see the movie-screening that he's part of, but ends up disappointed as his part gets cut from the film. It's just so sad! Dev has invited all of his friends and family to the movie screening just for them to see nothing. Dev's father asks, "Where are you in the movie, son? Did we all get into the wrong movie theater?" — so sad. Despite the failures, Dev's father still supports him 100%! That's what I like about his father. Even though he is an Indian and most likely wants Dev to become a doctor, businessman, or an engineer, he fully supports his son's decision as an actor. Dev and Rachel's relationship is rocky, and they decide to just break up. Rachel moves to Tokyo, while Dev goes to Italy to go to a pasta-making school. That's the end of season 1.
I know my review is shitty, my English is bad — I am basically the worst ever. But like I only use this wordpress as a practicing tool lmao I ain't shit still